SPARKILL CONCERT SERIES & GET CLASSICAL present:
"In Celebration of a Great Artist," an all-Tchaikovsky program with pianist, Vassily Primakov, violinist, Filip Pogády, cellist, Yves Dharamraj; and guest artists, Oxana Mikhailoff and Asiya Korepanova. Asiya will also display her original artwork – a collection of 18 drawings – inspired by each of the pieces that make up Tchaikovsky's up Op.72.

Marking the 120th anniversary of Tchaikovsky's death, the program will encompass his solo piano works including several numbers from the Concert Suite, "The Nutcracker", a winter holiday favorite.
Sunday, December 9th, 2018 at 3pm – 5pm
Union Art Center, 2 Union Street, Sparkill, New York 10976
Get Tickets

This is a truly international group consisting of Franco-American cellist, Yves Dharamraj, Slovakian-Austrian violinist, Filip Pogady, and Russian pianist, Vassily Primakov. They will perform one of the most breathtaking chamber music pieces ever written, "Tchaikovsky Piano Trio in A Minor," dedicated to the composer's teacher, mentor and friend, Nikolai Rubinstein.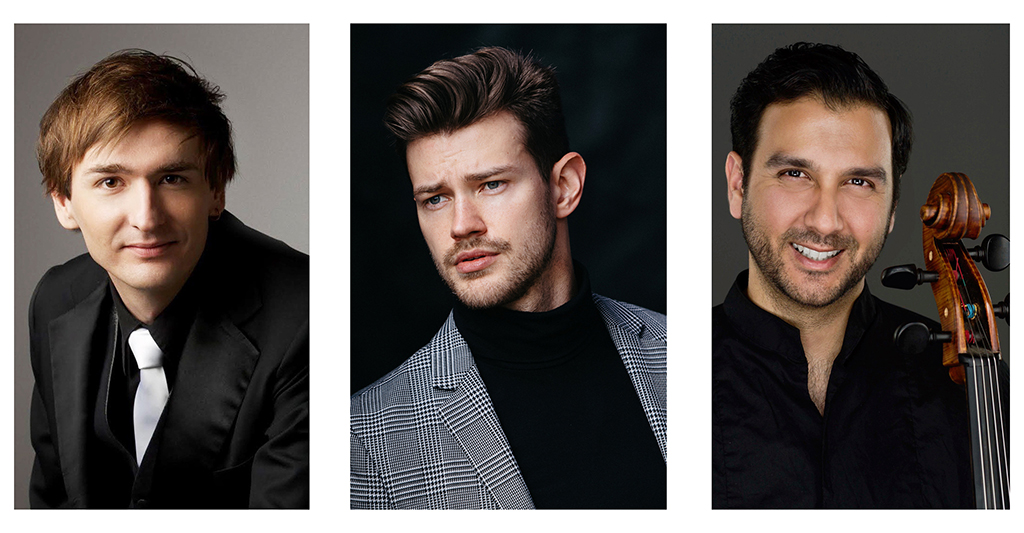 Pianist: Vassily Primakov, Violinist: Filip Pogády, Cellist: Yves Dharamraj
BIOS
In recent years, Vassily Primakov, has been hailed as a pianist of world class importance. Gramophone wrote, "Primakov's empathy with Chopin's spirit could hardly be more complete," and the American Record Guide stated, "Since Gilels, how many pianists have the right touch? In Chopin, no one is currently playing sounds as good as this! This is a great Chopin pianist." Music Web-International called Primakov's Chopin ConcertosCD, "One of the great Chopin recordings of recent times. These are performances of extraordinary power and beauty."
Filip Pogády has been praised by the press for the beauty of his tone and his "lightning-like virtuosity." Pogády has performed in some of the most renowned concert venues such as Lincoln Center (New York), Rudolphinum (Prague), Konzerthaus (Vienna), Tel Aviv Opera House, and the Lotte Hall in Seoul. TV appearances include guest-starring on Louis CK's popular TV show, "Louie," where he acted as a subway violinist.
Captivating his audiences with a "primer of technical feats" (New York Sun), and his warm, lush tone "that might be described as something akin to rich old wood" (Boston Musical Intelligencer), Yves Dharamraj has earned a worldwide reputation as a dynamic cellist who blends an immaculate command of the instrument with a deep musical understanding to express his fresh and elegant interpretations.
guestartists:

Oxana Mikhailoff has pursued an active performing career throughout Russia and Europe as a recitalist, concert soloist and chamber musician. Her United States debut took place at Carnegie Hall in 1999. She later returned to Carnegie Hall to play an all-Chopin recital on the 150th anniversary of the composer's death.  This Russian-born American pianist was honored with the Second Prize at the Martha Argerich International Piano Competition in August 2003, her eleventh international competition prize. Ms. Mikhailoff subsequently performed in the Martha Argerich festival in the world famous opera house, Teatro Colón de Buenos Aires. Ms.Mikhailoff then toured throughout Argentina together with Ms. Argerich. Ms. Mikhailoff maintains an active teaching studio in Westchester County less than one-half hour from New York City. Besides taking the role of artistic director of the Sparkill Concert Series, side by side with Vassily Primakov, she is also the Artistic Director of the Midland Music Series in Bronxville, NY.
Russian-American pianist Asiya Korepanova is a creative tour-de-force. From her breathtaking piano transcriptions to her innovative YouTube videos and educational outreach, Asiya is passionate about sharing the full depth and richness of classical music to audiences of all ages. Asiya is the founder of "Music for Minds", a non-profit organization dedicated to providing uniquely programmed classical music performances to classroom children. Asiya is also the founder of 'Festival Baltimore', a two-week chamber music series and summer academy at Linehan Hall of University of Maryland, Baltimore County, featuring the complete works of composers in various genres. Read GetClassical's recent article on this artist here.