Pianist Jeffrey Biegel : Gemeinsames Engagement- Gemeinsam Im Rampenlicht
Es gibt kein Halten für den Pianisten Jeffrey Biegel, wenn es darum geht, sein Organisationstalent dafür einzusetzen, weltweit klassische Musik zu fördern.
Zeitweilig mit dem legendären amerikanischen Pianisten Van Cliburn verglichen,der 1958 den internationalen Tchaikovsky Wettbewerb in Moskau gewann und damit für Amerika einen Meilenstein pianistischer Leistung setzte.
Biegels"Grand Style" machte ihn zu einem sehr erfolgreichen Auftritts-und Aufnahmekünstler. Aber, wie seine Aufzeichnungen und auch andere Exkursionen in weniger konventionelle Darstellungsformen beweisen, ist sein Spektrum musikalischer Ausdrucksfähigkeit keineswegs auf einen Stil oder eine Aktivität begrenzt. Auf der langen Liste seiner Erfolge lassen sich Komponieren und Arrangieren neben seinen vielen Klavierauftritten finden und immer wieder stößt man auf das Wort "zuerst", wenn er wieder einmal neues Terrain erobert hat. (siehe auch meinen Artikel: http://blogcritics.org/music/article/transcriptions-and-collaborations-why-not-mix)
Das war der Fall, als Biegel 1997 die Steinway Hall in New York als seinen Stützpunkt nutzte, um den ersten weltweiten Klavierabend ins Leben zu rufen, was zu jener Zeit überschwenglich als erstes Live Audio- und Videokonzert auf dem Internet angepriesen wurde.
Die Grenzen weiter sprengend, gründete er 1999 das erste große Konsortiumsprojekt, indem er 27 Orchester in 25 amerikanischen Städten zusammenbrachte.
"Ellen Taaffe Zwilich, die erste Frau, die einen Pulitzer Preis im Bereich Musik im Jahre 1983 erhalten hatte, komponierte die "Millenium Fantasy" für mich, erklärte Biegel als er beschrieb, wie sein Projekt, das im September 2010 mit der Veröffentlichung bei Naxos seinen Höhepunkt finden wird, entstanden war.
"Ich hatte beschlossen, dass es schön wäre, ein neues Werk für Klavier und Orchester bei Ellen Taaffe Zwilich, einer herausragenden Persönlichkeit in der Musikszene – gerade zu jener Zeit in New York, in Auftrag zu geben, … und schon bald sprachen wir ausführlich über meine Idee, für ein einzelnes Auftragswerk das größte Orchesterkonsortium in den USA zu schaffen, um so das Jahrtausend zu feiern."

Um Zwilich einen Überblick seines Werkes zu geben, schickte Biegel ihr seine Aufnahmen von Beethoven, Prokofiev, Leroy Anderson und Lalo Schifrins Zweites Klavierkonzert. Nach dem Anhören der Aufnahmen, rief sie
Biegels Partner Jeffrey James an und gab grünes Licht für ihren Beitrag. "Dies war der Beginn einer wunderbaren Freundschaft zwischen Frau Zwilich und mir," wie sich Biegel erinnert.
Am 22. September 2000 wurde Zwilichs "Millenium Fantasy for Piano and Orchestra" von Biegel uraufgeführt und spielte in Cincinnati mit dem Cincinnati Symphony Orchestra unter Jesus Lopez-Cobos. In Anbetracht des großen Erfolges der Premiere, verkündete Cincinnatis Bürgermeister den "Ellen Taaffe Zwilich Day" und übergab ihr den Schlüssel zur Stadt.
Der Erfolg von Zwilichs "Millenium Fantasy" Aufführung im Jahre 2000 – bis zu diesem Zeitpunkt das größte zusammenspielende Konsortium von Orchestern der Welt – führte zu einer Reihe weiterer Auftragsarbeiten.
Im November 2000 wurden Briefe an Orchester überall in den USA geschickt, mit dem Ziel das Konzept von 25 Staaten auf 50 auszuweiten.
"Concerto America", eine Partitur von Tony Preisträger Charles Strouse, war bereits vollständig finanziert und enthob so die Orchester von der Sorge, Mittel für seine Schaffung aufzubringen. Die Boston Pops hatten bereits zugestimmt, das "Concerto America" im Jahre 2002 zusammen mit dem Honolulu Symphony uraufzuführen, als der 11. September 2001 Biegels ambitioniertem Plan ein jähes Ende bereitete.
Er erinnert sich: "Direkt nach dem 11. September hörten wir damit auf, andere Orchester anzusprechen. Zu dieser Zeit schien es das Richtige zu sein. Ich wartete 3 Wochen lang damit Herrn Strouse anzurufen, in der Annahme, er hätte, nachdem er von seiner Manhattaner Wohnung aus das World Trade Center hatte brennen sehen, das Werk niedergelegt. Das Gegenteil war der Fall. Er sagte, er habe das Mittelstück vom Fröhlichem ins Tragische geändert.
Als weiteres Konzertprojekt folgte im Jahre 2003 – diesmal als Auftragsarbeit in internationaler Zusammenarbeit, das Concerto Nr.3, Opus 95 von Lowell Liebermann.
Wie Biegel so hatte auch Liebermann die Julliard School in New York besucht und ihre Wege hatten sich oft gekreuzt. So sagt Biegel: "In meiner Erinnerung ist am erfreulichsten, wenn Lowell mich im Klavierproberaum am Üben sah. Er würde in den Raum mit einem neuen Stück kommen, das er soeben geschrieben hatte. Er würde mich bitten, es vorzuspielen und mich dann nach meiner Meinung fragen. Und zweifelsohne handelte es sich immer um ein sagenhaftes, neues Werk.
Liebermanns "Concerto Nr.3"wurde schließlich von 17 amerikanischen und einem deutschen Orchester gemeinsam in Auftrag gegeben.
Der Weltpremiere des Concertos mit dem Milwaukee Symphony Orchestra unter der Leitung von Andreas Delfts im Jahre 2006 folgte 2007 die Aufführung des Schleswig-Holsteiner Landestheater Orchesters in Flensburg, wobei Deutschland dem Projekt seine internationale Dimenson gab. Derzeit gibt es Pläne das Concerto während der 2011-2012 Konzert Saison aufzuzeichnen.
Zum Thema Zusammenarbeit bei der Auftragsgebung von musikalischen Werken hat Jeffrey Biegel folgendes zu sagen: "Es scheint inzwischen unvermeidlich zu sein, dass der zukünftige Verlauf mehr Projekte hervorbringen wird, die auf dieser Art sehr effizienter Zusammenarbeit beruhen."
Und er fügt hinzu: "Ich stelle mir vor, dass globale Auftragsprojekte neue Kompositionen weltweit in die Städte bringen werden, während gleichzeitig für jedes Mitglied die Kosten bezüglich neuer Kompositionen finanziell erschwinglich bleiben. So verbindet  das ebenfalls als Kulturdiplomatie viele Länder und macht die Musik zum Eckpfeiler der Zusammenarbeit."
Vorerst scheint es, als plane Jeffrey Biegel seine nächsten Schritte in diesem Arbeitsablauf, indem er den Erfolg seines allerersten Projektes mit Zwilich feiert.
"Auf Ellen [Taaffe Zwilich] zurückzukommen, um ein neues Werk für Klavier und Orchester zu komponieren, schien für mich eine logische Wahl zu sein. Fünf Orchester haben sich bis jetzt verpflichtet für das 2011-2012-2013 Unternehmen im Konsortium zu sein und während dieser Artikel geschrieben wird, werden weltweit Orchester kontaktiert. Diese Arbeit, die vom Louisiana Philharmonic 2011/2012 aufgeführt wird, schafft für Orchester eine neue Gelegenheit mitzumachen. In der schweren wirtschaftlichen Lage ist es überall in den USA wie auch global, wenn ich hinzufügen darf," erklärt Biegel, schwieriger geworden, neue Werke für eine Komponistin von Frau Zwilich's Statur in Auftrag zu geben."
Und: "eine Schaffung einer sozusagen globalen Allianz von Symphoniorchestern wird auch die Inauftragstellung neuer Musik von Komponisten aus verschiedenen Teilen der Welt fördern."
Da Jeffrey Biegel so unermüdlicher ist, sollte ich auch erwähnen, dass sein allernächstes Werk nicht weit entfernt ist: "Für Trio21, haben wir eine neue Inauftragsstellung für Klavier für unsere Konzerteröffnungssaison 2011-12 von dem schnell bekannt werdenden Komponisten Kenneth Fuchs.
Biegels Trio21 mit Violinistin Judy Kang und dem Cellisten Robert deMaine, vermag in der Tat das Konzept der kooperativen Auftragsprojekte weiter ausweiten und auch weltweit im Bereich Kammermusik kooperative Gruppenaufträge miteinzuschliesssen.
"Mein Ziel war es immer," stellt Jeffrey Biegel abschliessend fest, "durch Musik die Welt so nah wie möglich zusammenzubringen – Musik, die wir alle kennen, wie auch neue Musik, die noch nie vorher aufgeführt worden ist."
Und das ist genau das, was er macht…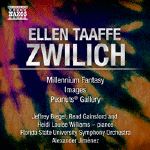 Ellen Taaffe Zwilichs Komposition und Mr. Biegels erstes Auftragsprojekt "Millennium Fantasy" wurde mit dem Florida State University Orchestra aufgenommen, dirigiert von Alexander Jiminez und als Teil einer Kollektion von drei Zwilich Werken im Rahmen der Digitalen Downloads bei Naxos im Februar 2010 veröffentlicht:
1: Millennium Fantasy, für Jeffrey Biegel im Jahre 2000 geschrieben
2: Peanuts Gallery, ein Stück bestehend aus sechs Sätzen als Anerkennung der Figuren von Charles M. Schulz (beide von Jeffrey Biegel aufgeführt)
3: Images for Two Pianos and Orchestra, aufgeführt von den Pianisten Read Gainsford und H.L.Williams. Die Veröffentlichung der CD ist für September 2010 geplant.
Andere Projekte sind Richard Danielpours "Mirrors for Piano and Orchestra," was gemeinsam von privaten Geldgebern und dem Pacific Symphony Orchestra in Auftrag gegeben wurde (Weltpremiere im Februar 2010) und die Weltpremiere von William Bolcoms "Prometheus for Piano, Orchestra and Chorus" mit dem Pacific Symphony Orchestra und Pacific Chorale, die für November 2010 geplant ist.