Musik und Film – 'Touching the Sound'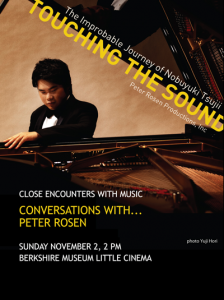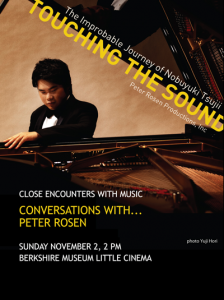 "Die Hauptsache ist es immer noch eine aussagekräftige Geschichte zu erzählen (alle Fotos mit freundlicher Genehmigung von Rosen Productions und dem 'Close Encounters with Music' Festival) Zusätzlich zu seiner Konzertreihe erkunden die jährlich stattfindenden 'Close Encounters with Music' des Berkshire Festivals, die von dem charismatischen Cellisten und Unterhalter Yehuda Hanani geleitet werden, die vielfältigen Themen klassischer Musikkultur. Als Teil des diesjährigen Musikfestivals stellte Peter Rosen seinen die Gefühle ansprechenden Dokumentarfilm Touching The Sound über den blinden japanischen Pianisten und den Van Cliburn Goldmedaillisten Nobuyuki Tsujii vor. "Dies ist ein Film über den Triumpf des Menschen wie auch den Triumpf der Kunst," kommentiert Hanani. "Man denkt an Beethoven, der alle Widerstände überwindet. Ein gehörloser und ein blinder virtuoser Pianist … die Art wie Peter die Geschichte von der frühen Kindheit an entwickelt … ganz bis hin zum Van Cliburn Wettbewerb, ist ein inspirierendes Crescendo," führt Hanani an, dessen wöchentliches Classical Music According to Yehuda bei den Round Table Discussions von WAMC, dem öffentlichen Radiosender im Nordosten der USA, ausgestrahlt wird Northeast Radio's Round Table Discussions.
In unserem ersten Gespräch über die letzte Veröffentlichung in seiner langjährigen Karriere definiert Rosen, der New Yorker Dokumentarfilmkenner, das "Geschichtenerzählen" als wesentlichen Bestandteil eines jeden Films: eine Herausforderung, die sich nicht hinsichtlich der Botschaft unterscheidet, die ein Film in Bezug auf Musik hat. "Jedes Projekt hat ein anderes Thema und Konstellation, entsprechend der Art und Weise wie der Film entstand und wie seine Produktion erfolgte. Und dennoch bezieht sich im Grunde genommen die gleiche Struktur einer traditionellen Erzählung– ihre charakteristische Einteilung in drei Akte– auf alle Filme," erklärt der Filmemacher, der von seiner Ausbildung her Architekt ist. Gleich ob Rosen Arthur Rubinsteins Leben oder Van Cliburns Internationalen Klavierwettbewerb porträtiert, zielt er nie darauf ab, die technischen Einzelheiten eines jeden bei der Beherrschung des jeweiligen Instrumentes zu zeigen, was letztendlich – so wichtig auch diese Details auch sein mögen – recht langweilig anzuschauen wäre. Außer den aufgezeichneten Live–Aufnahmen, die einen Auftritt in ihrer Gesamtheit zeigen, wie bei Tsujiis Live at Carnegie Hall, zeigt Rosen selten ein Musikstück in voller Länge, das auf Film festgehalten wird. "Es ist immer eine Gradwanderung, auf die man sich begibt, wieviel Musik man tatsächlich gebrauchen kann, ohne den Erzählfluss der Geschichte zu unterbrechen. Wir bekommen immer Zuschriften von Lesern, die sich gewünscht hätten, mehr Musikstücke hören zu können, aber die durchschnittliche Aufnahmebereitschaft eines Zuschauers erlaubt nur 2-3 Minuten, ohne dabei den roten Faden der Geschichte zu verlieren," meint Rosen.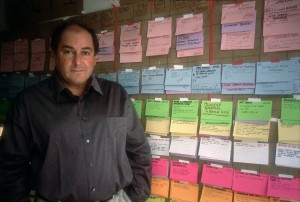 Das trifft auch auf Touching the Sound zu, welcher dem Goldmedaillengewinner von den rührenden Beschreibungen seiner Mutter von den ersten Momenten an folgt, als seine Blindheit, wie auch seine außergewöhnliche Begabung klar wurden, bis hin zum Gewinnen von Gold und dem Gewinnen der Herzen: "Nobu" wie ihn seine Fans liebevoll nennen, behauptet sich auf der Konzertbühne.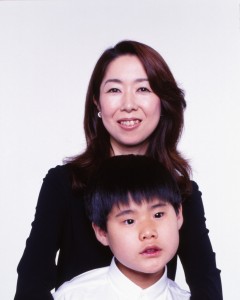 Foto: Nobu und seine Mutter Itsuko
Von seiner Geburt an blind, gewährt der nun 23-jährige Nobu Einblick in seine inspirierende, heldenhafte Reise und außergewöhnliche Begabung am Piano und zeigt die Facetten seiner Identität als internationaler Auftrittskünstler und als kultureller Botschafter seiner Heimat Japan. Seine Aufrichtigkeit kommt ebenso in seiner Kunst zum Vorschein wie auch im Filmmaterial, das während verschiedener Konzerttourneen aufgenommen wurde und seine Freude und wissbegierige Begeisterung darstellt, unterschiedliche Orte, Leute und kulinarische Überraschungen zu erleben.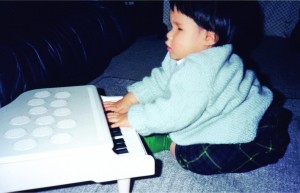 Zieht man in Betracht, dass er extreme Widrigkeiten bewältigen musste, , erscheint ein Vergleich seiner pianistischen Leistungen mit denen seiner "Kollegen" noch willkürlicher, als die bereits fraglichen und subjektiven Entscheidungen jeglicher Wettbewerbsjuroren. Die Van Cliburn Juroren, dem auch der ausgezeichnete Pianist Menahem Pressler angehörte, gaben zu, extra an ihrem Objektvitäts-Maßstab gearbeitet zu haben, um ihre prestigeträchtige Anerkennung nur auf der Basis künstlerischer pianistischer Exzellenz auszusprechen. Nobu selbst gesteht ein, dass er lieber als großer Pianist bekannt sei, als ein "großer blinder Pianist," dessen erstaunliche Begabung etwas ist, über das über das die Leute staunen. Mit der Hilfe von Übersetzungen von Nobus ständigem Reisegefährten und Manager Nick Asano und Nobus Klavierlehrer aus der Kindheit, Masahiro Kawakami, drückt der Film viel von der aufrichtigen Leidenschaft aus, andere an seinen, ihm angeborenen musikalischen Talenten, an seiner Bescheidenheit, Dankbarkeit und Offenheit teilhaben zu lassen, mit denen er den Herausforderungen des Lebens begegnet und voller Freude dessen Sinnesfreuden annimmt. Der Film konzentriert sich schließlich auf sein tatsächliches Können an der Tastatur. Vor dem Hintergrund der Musik von Tschaikowski, Chopin, Rachmaninow, Liszt, Beethoven und Mussorgski richtet sich Rosens Kamera immer auf die menschliche Empfindung und ihr Blickwinkel wird darauf eingestellt: Nobus schweres Atmen mit dem ruhelosem Wunsche, direkt vor seinem Carnegie Hall Debüt die Bühne zu erobern, gefolgt von der Entladung all der aufgestauten Spannung in einer schluchzend-geführten und Tränen rührenden Zugabe, bestehend aus seinen eigenen Kompositionen, die zu Ehren der die japanischen Opfer der Tsunami geschrieben wurde.
Rosen sucht sich seine Film-Charaktere entsprechend der Dramatik aus, der er Ausdruck geben will. Er sucht nach den Erzählsträngen, die von den Konflikten der Individuen, ihren Beziehungen mit anderen und vor allem von ihrer Erlösung herrühren: dem Überwinden ihrer individuellen Herausforderungen – das ist die Geschichte, die er erzählt, inmitten eines jeden spezifischen Soundtracks. Indem er den Fokus der Kamera auf die emotionalen Reaktionen der Charaktere richtet, die den Bogen spannen, um die sich die Geschichte rankt, zieht es Rosen vor, lieber etwas visuell aufzuzeigen, als zu erzählen.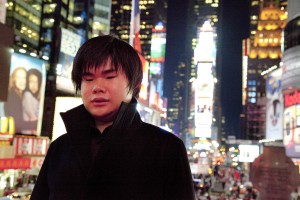 Rosen begann seine Karriere in den späten 70-igern mit USIA Projekten, die darauf abzielten, die kulturelle Reputation der USA in Übersee zu stärken. Einer dieser Aufträge – ein Porträt von Leonard Bernstein – wurde zum Meilenstein für Rosens Weg. "Ich bin nicht selbst ein Musiker. Voller Ressentiment überstand ich zwölf Jahre Klavierstunden, ohne das dabei viel herausgekommen ist – ich kann Musik lesen, aber ich kann nicht eine Sache spielen" gibt er freiwillig von sich." Natürlich wusste ich von der enormen Rolle von Bernstein in der Musik, aber ich näherte mich seiner Persönlichkeit nicht vom Standpunkt eines Musikers – ich hatte nicht diese Art von hochgestochener Perspektive. Das war, wie er überzeugend weitergibt, sein Rezept zum Erfolg: "Während Filme über Musik im Allgemeinen auf ein bereits kenntnisreiches Publikum ausgerichtet sind, habe ich eine intuitive Ader dafür, was das Publikum sehen will und womit es sich identifizieren kann," sagt er. Dies trifft sicherlich auf die Filme in Rosens umfassender Filmographie zu, die ich die Gelegenheit hatte, zu sehen. Ein gutes Beispiel wäre sein Meisterstück The Maestro, ein Film über den legendären Dirigenten Arturo Toscanini, in dem Rosen von dem üblichen Weg abweicht, die tatsächliche musikalische Karriere des Maestros darzustellen und stattdessen sich darauf konzentriert, wie der berühmte Dirigent seinen Status nutzte, um ideologisch den Faschismus zu bekämpfen. Natürlich ist es die Musik, die wesentlichen Soundtracks dieser Dokumentarfilme über Persönlichkeiten aus der Musikwelt, die die anhaltende Besonderheit der Geschichten ausmacht; der Instrumentalbegleitung, die der Entwicklung der Geschichte folgt und ihre Höhepunkte ausdrückt. Die wesentlichen Botschaften, die Rosens Filme mit scharfsinniger Perspektive vermitteln, gehen über seine Erkundung der menschlichen Natur durch die Anstrengungen der Charaktere unter widrigen Bedingungen hinaus, drücken ihre Entwicklung und individuelle Freundlichkeit aus und beleuchten die äußersten Höhen ihrer künstlerischen Leistung. Und das ist die Art emotionaler Beziehung, auf die das Publikum beim Musik- wie beim Filmemachen mit Applaus reagiert.
.