Knowledge is the Beginning – Wissen ist der Anfgang – Daniel Barenboims Ost-West Diwan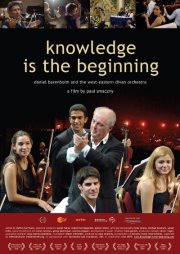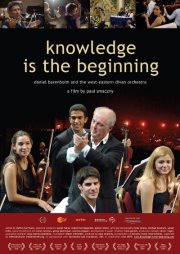 Knowledge is the Beginning – Wissen ist der Anfgang– Im Rahmen der New Yorker Auftritte des Ost-West Diwan-Orchesters unter Daniel Barenboim, wird der Dokumentarfilm gezeigt und diskutiert. (freier Eintritt im 'Symphony Space' am Sonntag, dem 27. Januar, mit anschließender Frage- und Antwort- Session).
Wissen ist der Anfang, der mitreißende, Emmy-preisgekrönte Dokumentarfilm von Paul Smaczny, der im Jahre 2005 für 'Euro Arts Music' herauskam, wirft einen genauen Blick auf die visionäre gemeinsame Unternehmung zweier kreativer Kräfte: die des Palästinensers Edward Said und des Israelis Daniel Barenboim, die es schafften, ein außerordentliches Beispiel zu geben und damit die Macht der Musik über die Politik sichtbar machten. Der Film dokumentiert die Gründung des Ost-West Diwan-Orchesters im Jahre 1999 in Weimar, deren Ziel es war, Musiker aus Israel, Palästina, Syrien, dem Libanon, Jordanien und Ägypten wie auch internationale Gastkünstler und Pädagogen angesichts und trotz politischer Zwietracht im Nahen Osten zusammenzubringen. Nach der deutschen Wiedervereinigung war die Stadt Weimar darauf aus, ihre einstige, glorreiche, musikalische Vergangenheit zurückzubringen und Barenboim versuchte, mit seinem an die Öffentlichkeit gerichteten Musikprojekt, einen wirklichen Unterschied auszumachen. Das Orchester erschien als eine Möglichkeit, die Ziele beider Seiten zu erreichen. Die alles überwindende Menschlichkeit in den Dialogen zwischen den jungen Musikern, die sich ergibt, wenn sie lernen und zusammen auftreten, beseitigt die bestehenden Bedenken und Vorurteile, denen sie gegenüberstehen und die sie als Individuen bewältigen müssen. Gesten, wie sich einen Notenständer zu teilen, das musikalische Können eines jeden zu würdigen und sich ganz einfach auf persönlicher Ebene kennenzulernen, sind kleine, aber dennoch wichtige Bausteine. Barenboim hat für dieses Ergebnis eine logische Erklärung bereit: Die Zeit, die man mit Musik verbringt, ist eine Zeit, die weniger für extremistische Ideen verwandt werden kann." Sich gegenseitig kennenzulernen scheint in der Tat ein vielversprechender Beginn eines wirklichen Perspektivenwechsels. Der Film findet ein ausgewogenes Verhältnis, sich eingehend mit den inneren sozio-politischen Konflikten, um die es geht, zu beschäftigen und über Proben und Konzerte, die Smaczny behandelt hinweg, den Prozess des Musikmachens darzustellen. Musikprogramme, die sich auch an die in Israel lebende arabische Bevölkerung wenden, hat es seit Jahren gegeben, unterstützt von besonderen Konzerttouren in vorwiegend arabischen Gegenden und gesponsert vom Israelischen Philharmonischen Orchester. Keine dieser Bemühungen hat jedoch die Bedeutung und Resonanz gehabt, wie es das Ost-West Diwan-Orchester in der Öffentlichkeit hatte; das Orchester bietet seinen Musikern eine eigene Realität, der man schwerlich in seiner Gradlinigkeit widerstehen kann. Ohne irgendwelche besonderen politischen Ambitionen zu haben und dennoch mit dem Wagnis nicht 'politisch korrekt' zu sein, gelang es den führenden Persönlichkeiten auf beiden Seiten, mit dem Ost-West Diwan eine einzigartig sichere Umgebung zu schaffen, die Eintracht und gegenseitiges Verständnis innerhalb der Gruppe seiner Musiker fördert. Wie der Film wirksam vermittelt, ist Barenboims Aufmerksamkeit auf das Detail und seine außergewöhnliche Gabe, das Beste aus jedem Musiker herauszuholen, inspirierend und signalisiert sein Enagement, dieses Kooperationsprojekt auf die nächst höhere Ebene zu bringen.
Der Film knüpft an Barenboims Bereitschaft an, jeglich mögliche Plattform zu einer Äußerung für seine Sache in Anspruch zu nehmen, selbst das Podium, das ihm aus Anlass seiner Dankesrede für den 'Wolf Prize for the Arts' zur Verfügung gestellt wurde, den er in der Knesset, dem israelischen Parlament erhielt. Barenboims kritische Betrachtung israelischer Politik ist kein Geheimnis und unter den Musikern und den Interviewten wird im Film der palästinensische Standpunkt gut vertreten. Was im Film fehlt – und was vielleicht auch in Barenboims eigener Wahrnehmung vielleicht etwas zu kurz kommt, ist ein entsprechendes Verständnis des israelischen Seelenzustandes. Im Film findet die israelische Sichtweise des Konfliktes explizit nur durch eine junge Musikerin Gehör und Erklärung, die ihre Frustration und Hilflosigkeit angesichts der palästinensischen Terrorattacken zum Ausdruck bringt, denen sie sich auf täglicher Basis ausgesetzt sieht. Wie der Film beschreibt, ist das Passieren israelischer Grenzen für Palästinenser beschwerlich geworden, aber bis heute haben palästinensische Führungsgruppen noch nicht einmal die Existenz Israels akzeptiert. Wegen dieser turbulenten Umstände mussten die Orchestermitglieder besondere Diplomatenpässe bekommen, um zu ihren Auftritten separat anzureisen und die Gruppe musste ihre Reiserouten aufteilen: Nicht-Araber reisen über Israel ein, während Araber über arabische Länder einreisen. Angesichts all dieser Hindernisse war das einzigartige erste Konzert des Orchesters, das im Jahre 2005 in Ramallah, einer palästinensischen Stadt im Westjordanland ungefähr 10 km außerhalb von Jerusalem stattfand, eine bemerkenswerte Errungenschaft, ein symbolischer Erfolg dessen, was alles unter den Regeln der Annährung dieses bravourösen Dirigenten möglich ist. Barenboim wurde für seine Arbeit mit dem Ost-West Diwan-Orchester, das weiterhin international auftritt, zum Friedensbotschafter der Vereinten Nationen ernannt. Im Andenken an Edward Said, der im Jahre 2003 verstarb, hat Barenboim in jüngster Zeit Pläne angekündigt, im Jahre 2015 die Barenboim-Said Akademie zu gründen, die im Rahmen einer über das ganze Jahr bestehenden Einrichtung für junge Musiker aus dem Nahen Osten den Geist des West-Östlichen Diwan-Orchesters weiterfortsetzen wird. Barenboim plant die nach ihm und Said benannte Einrichtung in Berlin direkt neben der Staatsoper zu bauen. Das Gebäude wird eine neue, von Frank Gehry entworfene Konzerthalle besitzen. Ilona Oltuski