Klassik begibt sich auf eigene neue Wege – Classical:NEXT – und verschafft sich vielstimmigen Ausdruck
Jennifer Dautermann, Mitarbeiterin bei WOMEX (der 'World Music Expo') und Projektmanagerin von Classical:NEXT war beim Aufbau der neuen Plattform für Fachleute klassischer Musik am gut ausgestatteten und leicht überschaubaren Münchener Kulturzentrum Gasteig, sehr erfolgreich.
Der lang überfällige Auftaktdes ersten Forums der klassischen Musik gewidmet , fand vom 30. Mai bis zum 2. Juni statt und war Veranstaltungsort für Live- und Video-Vorzeigeprojekte, Konferenz-Sessions und Präsentationen von führenden Fachleuten aus der Presse und den Musikinstitutionen, wie der 'Carnegie Hall'und der Bayrischen Staatsoper.
Das Forum präsentierte auch anhand von leicht zugänglichen Messeständen die internationale Musikindustrie, die von der Allgegenwärtigkeit des großen Naxos Teams dominiert wurde.
Wichtig war die Anwesenheit von Klaus Heymann, dem eminenten in Hongkong ansässigen Gründer von Naxos und Selfmademan, der dieses Forum dazu erkor, das 25jährige Jubiläum in der Rolle als größter Vertreiber klassischer Musik zu feiern.
Das allein mag zum Teil dazu beigetragen haben, dass viele Labels, die von Naxos vertrieben werden, mit großem Engagementan Classical:NEXT teilnahmen. Naxos hat immer wieder bewiesen, dass es über einen innovativen, unternehmerischen Ansatz und eine Voraussicht verfügt, die mit großen Projekten, wie der Naxos Bibliothek, Triumphe erzielen. Ihnen ist es gelungen, Kultur und Kommerz zu verknüpfen und auf eindrucksvolle Art ihre Entwicklung von einer Low-Budget-Unternehmensgründung zu einem weltweit führenden Unternehmen, mit dem zu rechnen ist, zu demonstrieren.
Zu schade war es daher, das die großzügige Geste der Einladung zu ihrer Jubiläums-Feier vom Veranstalter nicht genügend publik gemacht wurde und so nicht jederman wusste, dass die Party für alle Teilnehmer von Classical:NEXT gedacht war.
Was eine wohl wertgeschätzte Gelegenheit für alle Anwesenden gewesen wäre soziale Kontakte zu knüpfen und auch das anschliessende, von Naxos gesponserte Konzert zu geniessen, wurde so nur von einer begrenzten Anzahl wahrgenommen.
Klaus Heymann sagte darüber :"Wir hätten viel mehr Leute bei der Party und dem anschließenden Konzert haben können und es war bedauerlich, dass der Veranstalter beides nicht besser publik gemacht hat. Unter verbesserten Umständen,werden wir aber wieder gerne im nächsten Jahr hinter einer Veranstaltung stehen."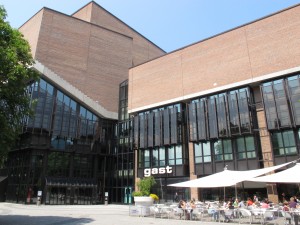 Schliesslich war es die Vertrautheit der Welt der Klassik, die jeden für diese neue Veranstaltung zusammen gebracht hatte, in der es die Nähe ist, die in einer scheinbar kleinen, miteinander verknüpftenMusikwelt für bessere Partner sorgt.
Bis jetzt musste klassische Musik bei internationalen Messen wie Cannes Midem (Marché International du Disque et de l'Edition Musicale) die Bühne und das Marketing-Geschäftmit anderen Genres teilen.
Darüber wurde zwar jahrelang gesprochen, aber im letzten Jahr wurde nun, dank der Initiative von CLASS (Association of Classical Independents in Germany), die sich zwecks der erforderlichen finanziellen Unterstützung mit dem Kulturreferat der Landeshauptstadt Münchenzusammengetanhatte, ein eigenes Forum für klassische Musik auf die Beine gestellt. Und es war wunderbar zu sehen, wie überwältigend positiv auf der Messe die Resonanz der Branche war.
Das Forum stand ganz im Zeichen der klassischen Musik– und legte starkes Gewicht auf die besonderen Herausforderungen, dem sich das Genre gegenübersieht, wie auch darauf, Lösungsmöglichkeiten aufzuzeigen. Wer wäre besser in der Lage diese Belange anzusprechen als die Branche selbst, die sich sehr darum bemüht, klassische Musik im Mainstream beizubehalten? Und so kam es auch, dass alle Bereiche aktiven Anteil nahmen und gestärkt aus dem Forum herauskamen.
Wie es der Titel des Forums andeutet, waren die Gesprächsthemen, die die meisten Vorträge beherrschten, an den zukünftigen Aussichten im Bereich klassischer Musik orientiert – ihren Formaten, ihrer Präsentation und dem Marketing, wie auch den Anstrengungen, das Publikum vermehrt einzubeziehen und differenziert anzusprechen.
Einheitlich angesprochen wurde die Notewendingkeit neue Plattformen und Strategien zu finden, um neue Zuhörer einzubinden, wobei es auffällig wurde, wie unterschiedlich die Ansätze und Einstellungen bzgl. der Frage waren, was der Industrie diese 
Veränderungen liefern könnte. Als ein Beispiel begrüßte James Jolly (Pressefoto links), der Chefredakteur bei Gramophone, voll und ganz die Anwesenheit von Musikjournalisten im Internet, die nicht von einer Redaktion zensiert werden und "Amateure im besten Sinne des Wortes sind."
Umgekehrt wurde der Ansatz von Oliver Condy, (Pressefoto rechts) dem Herausgeber des BBC Musik Magazins, schlichtweg von der Hand gewiesen, der, angesichts einer rapide abnehmenden Anzahl von Redaktionsmitgliedern innerhalb der Printmedien zu diesem Themaeine recht verengte Ansicht präsentierte. Carsten Dürer, der Chefredakteur von 'PIANOnews & ENSEMBLE', positionierte sich irgendwo in der Mitte.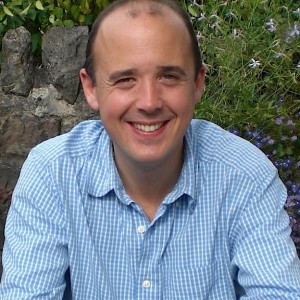 Foto: Oliver Condy 'BBC Magazine'
Es gab interessante Marktforschungsvorträge zur Frage, wie soziale Medien zu Marketingzwecken genutzt werden könnten, wie auch eine Auskundschaftung von vergleichsweise neuen Finanzierungsmöglichkeiten, wie zum Beispiel das originelle Projekt 'Open Goldberg Variations', das durch sogenanntes "Crowd-funding" durch Kickstarter finanziert wird. Während in diesem Fall sich die Initiative auf eine substantielle Summe bezifferte und das Projekt tatsächlich auf erfinderische Weise Nutzen aus der Vorstellung, eine 'Community' durch soziale Medien zu errichten, zog, stellt dieses immer noch eher einen außergewöhnlichen Erfolg, statt die Regel dar.
Obwohl jedes Forum nach jedem Vortrag Fragen zuließ, hätte es allerdings viel dynamischer sein können, hätte es eine einbeziehendere Sitzanordnung gegeben und wäre ein längerer zeitlicher Rahmen für eine wirklich interaktive Diskussion angesetzt worden.
Aber unbekümmert dessenreichten die meisten Vorträge (und es gab viele) vom Informativen bis zum Inspirierenden, besonders dann,wenn sie einige der wirklich neuen Entwicklungen im Herzen unserer Industrie angingen, wie die klassische Club-Kultur, präsentiert von Christian Kellerman von 'Universal Music Classics &Jazz', dessen Initiative, ein jüngeres Publikum in dessen gewohnter Musikklub-Umgebung anzusprechen, bereits aus dem Jahr 2001 stammt(Polygram- Jazz Label in Hamburg). Er förderte Universals 'Yellow Lounge, die in jüngster Zeit mehr Anhänger in ganz Europa gefunden hat und deren 'New York Franchise' diesen Monat ins Leben gerufen wird. Diesem verwandt und durch die gegenwärtige Musikszene inspiriert, hat Dauterman von Classical:NEXT selbst C3, ein zeitgenössisches Festival, das klassische Gegenwartsmusik in die Clubs bringt, im Jahre 2009 in die Wege geleitet.
Es war interessant zu beobachten, dass auf einem Gebiet, das oftmals als schwerfälligangesehen wird, es die innovativenKonzepte sind, die unglaublich an Dynamik gewonnen haben.
Es stand eine bereite Palette neuer Musik mit Live – und Video- Darbietungen zum Angebot. Die Entscheidung für die Auswahl, die laut Aussage von Dautermann (genannt im "Internationales Kunstmanagment") "ein breites Spektrum an Repertoire und Ansätzen" darstellte, war aus rund 100 Bewerbungen von einer Jury getroffen worden, um Kontakte junger Künstlerzupotentiellen Managern von Künstlern, Moderatorenund Journalisten zu erleichtern. Nachdem ich mich auf Deutsch und Englisch mit Rebecca Schmidt, einer der Jurymitglieder und derzeit Berlin–Korrespondentin von 'Musical America' unterhalten hatte, war ich mir sicher, dass diese Auswahl sich in guten Händen befand.
Die Tatsache, dass die Zeitvorgaben für die Vorzeigeprojekte sich zeitweise mit anderen im Programm überschnitten machte es allerdings zuweilen schwierig, so viele zu besuchen, wie man wollte, was etwas enttäuschend war.
Foto: Seda Röder von Dana Tarr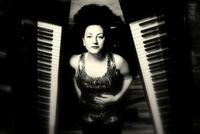 Unter denjenigen, bei denen es mir gelang, sie zu erwischen und die ich mochte, waren die junge Pianistin und Komponistin (http://www.sedaroeder.com/) Seda Röder, die John Cage und eine ihrer eigenen Kompositionen spielte (ein Folgeartikel mit der Künstlerin ist vorgesehen); wie auch der Pianist und Komponist Moritz Eggert,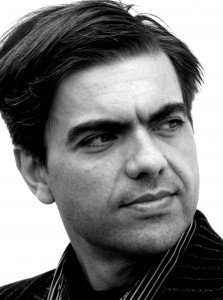 (Foto von Mara Eggert), der mit noch mehr Cage in der AbschlussSession Eindruck machte und die Jahrhundertfeier des Meisters würdigte. Das junge Orchester Jakobsplatz München, dessen konzeptionelle Präsentation jüdischer Komponisten in einem "lebendigen" Kontext – im Gegensatz zu ihrem üblichen Schwerpunkt, dem Holocaust oder sogenannter "entarteter Kunst" – erschien mir alseine erfrischende Art, neue Musik und neues jüdisches Leben in Deutschland mit Begeisterung anzunehmen.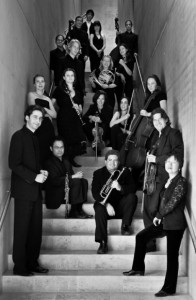 Foto: Erol Gurian-Orchester Jakobsplatz München
Eine breite Perspektive von Informationsflüssen wurde auch von teilnehmenden Institutionen geboten, wie den IAMIC (International Association of Music Information Centers), einem weltweiten Netzwerk von Organisationen, die Musik dokumentieren und fördern von dem ich noch nie zuvor gehört hatte.
Nicht zuletzt wurden bei Classical:NEXT einige der letzten Verbesserungen in der Tontechnik vorgestellt, wie auch viele neue Wege, Daten zu sammeln und Musikbibliotheken, die besonders auf das klassische Genre ausgerichtet sind, neu zu organisieren.
Noch nicht für Apple-Nutzer zur Verfügung stehend, bietet das innovative Software Paket Benutzern von PCs ein gigantisches Qualitäts- Archivierungs–System, das gesammelte Dateien (einschließlich selbst importierter CDs der eigenen Sammlung) in eine leicht abrufbare Sammlung mit überlegenen Anwendungsbereichenorganisiert– mit verschiedenen Kategorien und Abrufoptionen – als derzeit durch die iTunes-Bibliothek zur Verfügung steht. Als eineAlternative zu iTunes und für all diejenigen, die das spezifische Problem kennen, wie Regale voller CDs in ein Datei-Format zu überführen sind,das Sinn macht und in dem jede Datei leicht wieder gefunden werden kann (mit anderen Worten, für fast jeden gewissenshaften Klassik-Musik-Freak,der sich bemüht,mit dem Fortschritt in der Technik Schritt zu halten) – hat sich die Reise bereits gelohnt.
Foto: Jessica Duchen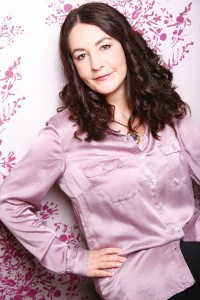 Insgesamt hat Classical:NEXT den Weg geebnet, Beziehungen zu knüpfen und zu erneuern und, was die vielen verschiedenen Stimmen betrifft, die heute der klassischen Musikszene neue Einflüsse geben und sie mit reichlich Stoff zu Denkanstößen bestimmen, auf dem letzten Stand zu bleiben. Mein einziges Problem ist, dass ich nun jenen wunderbaren Butter-Bretzeln verfallenbin, einem Hauptnahrungsmittel dieser gastlichen bayrischen Küche.