In Toronto trifft Ost auf West – Julliard Piano Duo Lang Ning Liu und Michael Berkovsky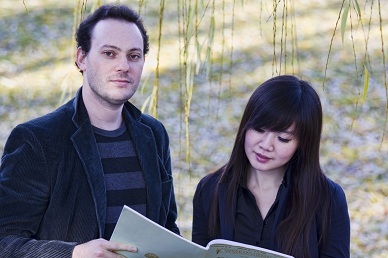 Die klassischen Pianisten Michael Berkovsky und Lang Ning
Liu sind beide sehr einfühlsame und sensible Pianisten. Owohl sie aus
unterschiedlichen Ecken der Welt stammen, teilen sie die Erfahrung eines
Studiums an der 'Julliard School'. Jetzt haben sie wieder zusammengefunden.
Nach dem Master Abschluss bei Juilliard, dem Gewinn des
Julliard Konzertwettbewerbs und dem Auftritt in der Avery Fisher Hall im Jahre
2008 hat Michael sein Musikstudium bei Peabody fortgesetzt und gewann erneut
den Auftrittspreis, der ihn zu einem Solokonzert am
Baltimore Art Center und einem Auftritt mit Orchester unter der Leitung von Leon
Fleisher berechtigte. Ich erinnere mich gut an seinen Soloauftritt vor ein paar
Jahren, nicht nur wegen der Wärme und Farbe seiner Interpretation von
Mussorgskis Bilder einer Ausstellung, sondern auch an die Tatsache, dass
nach der Hälfte des Auftritts die Konzerthalle auf einmal pechschwarz wurde. Unbeeindruckt
meisterte Michael kühn die Situation, genau wie es die legendäre Myra Hess es
tat, als sie ihr Konzert trotz des Klangs von Sirenen während der deutschen
Luftangriffe auf London weiterspielte. Michael schloss
sein Studium bei Peabody mit einem Ph.D. in Musikaufführung ab. Seine
außergewöhnlich warme und großherzige Persönlichkeit lässt kein extravagantes
Ego zu – eine Tatsache, die ihm viel Freunde und Unterstützer eingebracht hat,
wo immer er auch hingeht.
Als Lang Ning über Wege nachdachte, bei ihren Freunden
das Interesse an ihren Konzertaufführungen zu wecken, kam sie auf die Idee, chinesische
Volksweisen in ihre Konzertaufführungen zu integrieren. Dies erlaubt es Michael
und Lang Ning, nicht nur ein junges Publikum anzusprechen, sondern auch große neue
Hörerschaften zu erreichen, wie Torontos chinesische Einwohnerschaft. Lang
Nings Konzept spricht klar die sich ständig vergrößernden unternehmerischen
Instinkte junger Musiker an.
Torontos Chinesische Einwohnerschaft (nach Vancouver die
größte) hat eine anwachsende Zahl von Musikenthusiasten unter sich, die eine
Vielzahl von Konzertabenden und Auftritten besuchen. Ihre energische Unterstützung junger Talente ist etwas, auf das man rechnen kann und hat zu einer besonderen Wertschätzung für klassische Musik beigetragen. Seit dem phänomenalen Erfolg von Lang Lang sind Künstler mit asiatischem Hintergrund in anwachsender Zahl Teil des internationalen Musikzirkels geworden und präsentieren mehr und mehr weibliche Talente und werben so für das neugefundene Gefallen und die künstlerische Dynamik der jungen asiatischen Auftrittskünstlerin.
Bereits während der letzten Jahrzehnte ist an
amerikanischen und kanadischen Musikschulen und Konservatorien die Zahl der
Studenten mit einem asiatischen Hintergrund ständig angestiegen, mit
hochtalentierten Musikern, die nun mit dem westlichen Kanon aufwachsen und einen
interessanten Zulauf asiatischer Kultur bieten.
Besonders an den international bekannten Institutionen wie 'Glenn Gould School'
in Toronto oder der 'Juilliard School' in New York war es einer jungen
Generation von Musikern, Instrumentalisten und Komponisten möglich, sich auf
der lokalen und internationalen klassischen Musikszenen zu etablieren. (Siehe
mein Artikel über den jungen Komponisten Huang Ruo http://english.getclassical.org/2010/05/16/180/)
Die Pianistin Lang Ning Liu begann ihr Studium am
Zentralen Musikkonservatorium in Peking und hatte im Alter von 10 Jahren ihr
Orchesterdebüt mit dem 'Beijing Philharmonic Orchestra'. Im Alter von 17 Jahren
besuchte sie das 'Glenn Gould Institute' in Toronto und studierte dann bei
Juilliard von 2003 bis 2008 in New York bevor sie mit einem 'Master'-Abschluss
in Klavieraufführung nach Toronto zurückkehrte. Sie ist nun dabei, eine
internationale Auftrittskarriere aufzubauen und fand in der internationalen
Presse sehr positive Resonanz. In diesem Monat war sie die vom 'Toronto Concert
Orchestra' herausgestellte Solistin, als sie mit Tschaikowskis Klavierkonzert
No.1 unter der Leitung Kerry Stratton am 'Toronto Arts Centre' auftrat.
Die junge Pianistin ist nicht nur für ihre unbeugsame
Technik und ihr musikalisches Können bekannt bekannt, sondern auch für ihr
Engagement für in klassischer Musik angelegter Programme, die sich an ein breiteres
Publikum wenden. Sie ist Gründerin und künstlerische Leiterin der 'Toronto
International Piano Competition' und der 'CCC National Canadian Piano
Competitions' und dient als Jugendbotschafterin für das chinesische Kulturzentrum
des Großraums Toronto. Für eines ihrer jüngsten Musikprojekte stellte sie
erneut die Verbindung zu ihrem Julliard Mit-Absolventen und Pianisten Michael
Berkovsky her, der nun ebenfalls in Toronto lebt. Was als einzelner Auftritt begann,
bei dem Astor Piazzola Tangos gespielt wurden – einer Lieblingssache Berkovskys
– wurde zu einem erfolgreichen 'Joint Venture', benannt nach der Institution,
die beide Pianisten verbindet: The Juilliard Duo.
Bei Juilliard studierten Michael und Lang Ning Liu bei Julian
Martin. Obwohl Lang Ning etwas eher begann, wurde die musikalische Entwicklung
beider Pianisten sehr von dieser gemeinsamen Erfahrung geprägt.
Ihr neues Projekt beinhaltet die Niederschrift chinesischen Liedgutes, dem die Leidenschaft der
beiden Julliard Absolventen gilt. "100 Vögel begrüßen den Phönix" von Wang
Jian Zhong, für zwei Klaviere von dem The Juilliard Duo, transkribiert, besteht
derzeit als ein bezaubernder Clip, aufgeführt von Michael Berkovsky und Lang
Ning Liu. http://www.youtube.com/watch?v=dDN5TSfPq0E&feature=share
"Alles geht dabei darum, sich an ein anderes Publikum zu
wenden und unsere eigene schöpferische Begabung dabei einzubeziehen" meint Michael
in Toronto, als er mir von dem alten Volksmärchen über
den Phönix erzählt, auf dem "100 Vögel begrüßen
den Phönix" beruht: Der Phönix war ein einfacher Vogel, hart arbeitend und
ehrlich. Er sparte Nahrungsmittel zusammen, anders als die anderen bunteren
Vögel, die sich nicht sorgten und nicht daran dachten, sich auf härtere Zeiten
vorzubereiten. Als Zeiten der Hungersnot anbrachen und Vögel verhungerten,
teilte der Phönix die zusammengesparte Nahrung. Dafür sehr dankbar, gaben sie
jeder eine Feder und so wurde der einfache Vogel zum farbenfrohsten von allen
…die 'einer für alle und alle für einen' Ideologie kommt einem dabei in den
Sinn."
Michael ließ sich gerne in Toronto nieder und zum ersten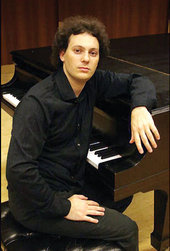 Mal, seitdem seine Familie aus ihrer Russland nach Israel zog und [er] dann weiter in die USA für seinen Masterabschluss
bei Julliard und sein Doktortitel bei Peabody in Baltimore, empfindet Michael, dass er für sich ein Zuhause schafft. Obwohl
er international als Solist aufgetreten ist, mag er auch sehr die Idee, mit
einem anderen Pianisten zu spielen: "Die Energie ist eine andere, als spiele
man Kammermusik und es gibt eine großartige
Kommunikation zwischen zwei Pianisten …ein großartiger Energiefluss und
gegenseitiges Verständnis und es ist auch nicht so einsam, als spiele man ein
Solorepertoire."
Momentan sind Lang Ning Liu und Michael dabei, den
"gelben Fluss" zu arrangieren, eine Komposition, die auf der Kantate des
chinesischen Komponisten Xian Xiang aus dem Jahre 1939 beruht. Seit ihrer
politisierten Premiere während der Kulturrevolution im Jahre 1969 erfreut sich
das Concerto in China und bei chinesischen Nationalisten in Übersee großer Beliebtheit.
Es ist als ein schwieriges Solostück bekannt. Berkovsky und Liu werden eine
zweite Klavierversion neu erschaffen. Dieser Tage
arbeiten Michael und Lang Ning daran, eine Konzerttournee vorzubereiten, die
sie in fünf chinesische Städte bringen wird, um im kommenden Sommer diese Werke
vorzustellen.