Der Weg Zum Wohltemperierten Pianisten: Kunstlerkommentare
Der Weg Zum Wohl-Temperierten Pianisten
2.Teil : Künstlerkommentare
Nach der Veröffentlichung des ersten Teils meiner Serie über die Taubman-Methode unter dem Titel "Der Weg zum wohltemperierten Pianisten" gab es die verschiedensten Reaktionen. Selbst auf den Facebook-Seiten von Freunden erschienen Kommentare. Die Bandbreite der Reaktionen reichte von interessiert oder auch enthusiastisch über zweifelnd bis ganz und gar feindselig.
Auf den ersten Blick sind einige der hoch-emotionalen Reaktionen auf etwas derart Trockenes und Emotionsloses wie Klaviertechnik schwer zu verstehen, aber dann sind diese Reaktionen vielleicht auch ein Indikator dafür, dass hinter der Taubman-Methode weit mehr steckt als auf den ersten Blick erkenntlich sein mag.
In diesem zweiten Artikel der Serie möchte ich mich deshalb darauf konzentrieren, die Essenz der Taubman-Methode in den Vordergrund zu stellen, indem ich die unterschiedlichsten Pianisten zu Wort kommen lasse. Die Musiker werden selbst über die Methode sprechen und ihre persönlichen Erfahrungen kundtun.
Wenn man sich ernsthaft mit der Taubman-Methode auseinandersetzt und ihre Vorteile kennen gelernt hat, dann gibt es keinen Weg zurück.
 Deborah Cleaver, Mitglied der Fakultät des Golandsky-Instituts
Nach zehn Jahren Unterrichtspraxis und vielen Auftritten in Berlin war die Amerikanerin Deborah Cleaver zunächst Studentin, dann Lehrassistentin des berühmten Pianisten und New England Conservatory-Musikpädagogen Leonard Shure. Später zog sie nach Portland in Oregon, wo sie auch jetzt noch am Reed College Klavier unterrichtet.
Deborah beschreibt ihre Erfahrungen folgendermaßen: "Als Pianistin mit kleinen Händen kam ich zu den Taubman-Studien, um Hilfe für das Spielen von Oktaven und Akkorden zu finden. Ich war sofort sehr beeindruckt und von der Logik und Leichtigkeit des gesamten Ansatzes angetan. So entschloss ich mich umzulernen. Es war schon fast ein Wunder zu erleben, wie sich meine Geschwindigkeit, Genauigkeit und Gewandtheit stetig verbesserte, während gleichzeitig meine Tonkontrolle, Klangformung und Ausdrucksweise wie nie zuvor freigesetzt wurden. Die Methode hilft sogar in Sachen Gedächtnis – und das ohne jegliche Anstrengung und Ermüdung."
Howard Schreiber und Ilona Oltuski in Princeton, beim Golandsky Seminar
Mein Freund Howard Schreiber ist ein passionierter Amateurpianist, der an der Manhattan School of Music Klavier studiert hat. Er meint, dass sein sympathischer Lehrer, der bekannte Musiker Seymour Lipkin, zweifelsohne die besten Absichten hatte, Howard bei der Überwindung seiner Minderwertigkeitsgefühle als Pianist zu helfen – leider jedoch erfolglos. Über seine Gefühle von damals sagt Schreiber: "Ich hatte keinen Sinn für die Verbindungen. Ich war angespannt am Klavier; alles war irgendwie unsicher und in der Schwebe, und ich erlaubte nicht, das volle Gewicht meiner Hände in die Tasten zu entlassen.
Ich erinnere mich daran, dass ich als Kind sehr natürlich gespielt habe. Erst später habe ich meine eigene Technik eingeschränkt."
"Wir brauchen eine Sprache, um Technik zu vermitteln", glaubt Schreiber. "Letztendlich sollte eine körperliche Reaktion ausgelöst werden, damit sich das Klavierspiel richtig anfühlt. Meine Lehrer brachten mir bei, die Finger zu isolieren: mein Arm war wie gefroren und gab mir keinen Halt hinter den Fingern. Ich hämmerte einfach weiter und dachte, damit würde ich die Muskulatur aufbauen; dabei habe ich mich nur noch mehr angespannt und schlechte Gewohnheiten vertieft. Ich kam immer weiter von einem natürlichen Zugang zu meinem Instrument ab, mit dem Resultat, dass ich schliesslich ganz aufgab."
Heute bedauert er, dass er nicht schon damals von der Taubman-Methode gehört hat. "Ich hätte keine Beschwerden haben sollen. Wenn man weiß, dass es Mittel und Wege gibt, diese Probleme beim Namen zu nennen … es wäre vielleicht anders ausgegangen für mich", sagt Schreiber.
Seiner Meinung nach sollten Studenten niemals Schmerzen am Klavier haben, und schon gar nicht das Gefühl, diese in ihrem Wettbewerbsumfeld verbergen zu müssen.
Sein an der West Coast ansässiger Lehrer Marc Steiner, heute ebenfalls Mitglied der Fakultät des Golandsky-Instituts, hatte Schreiber von den 'Taubman-Kassetten' erzählt.
"Ich fand Ednas Vorführungen schon beim ersten Mal sehr überzeugend. Zum damaligen Zeitpunkt war ich bereit, mich voll zu engagieren." Und das tat er dann auch.
Inzwischen hat Schreiber mehrere Jahre lang bei Edna Golandsky studiert, und schätzt jede Unterrichtsstunde und ihre tieferen Offenbarungen.
"Taubmans Arbeit hat mir die Möglichkeit gegeben zu kommunizieren und mich gewandt am Instrument auszudrücken. Ich weiß jetzt, wie man das bewerkstelligt – mit allen Feinheiten und Farbnuancen, zu denen ich vorher keinen Zugang hatte."

Mike Brofman
Der Pianist Mike Brofman ist ebenfalls vom Wert der Taubman-Methode überzeugt. Vor einem Jahr begann er, mit Robert Durso, einem der Gründer des Golandsky-Instituts, zusammen zu arbeiten.
Brofman galt als Kind als extrem begabt, und trat schon als Schüler an bekannten New Yorker Aufführungsorten auf. Später studierte er mit dem legendären Pianisten und Klaviertechnik-Theoretiker Gyorgy Sandor. Doch kurz nach Beginn seines Grundstudiums unter James Gilels an der North Western University machten sich in seinen Händen Ermüdungserscheinungen und Schmerzen bemerkbar.
"Ich befolgte den Rat meines Lehrers und nahm mir ab und zu eine Woche frei, um mich auszuruhen. Das brachte etwas Erleichterung, aber danach übte ich dann meist umso intensiver. Mein Lehrer riet mir, starke Gesten auf ein Minimum zu reduzieren, und nicht so stark in die Tasten zu greifen.
In meiner Abschlussklasse entwickelte ich jedoch Beschwerden zwischen meinem vierten und fünften Finger, die zu einem stechenden Schmerz führten, und der ging durch meine Hand hindurch und weiter in meinen Arm  … Ich hatte solche Schmerzen und war derart beeinträchtigt, dass ich nicht einmal mehr eine Gabel halten konnte."
Brofmans Ärzte wussten sich keinen Rat. Er hatte eine Kernspintomographie, bekam Kortisoninjektionen und machte Krankengymnastik. Aber nichts half, und Brofman musste seine Vorbereitungen auf die Abschlussprüfung aufgeben.
Nach Abbruch seiner Studien begann er, am Brooklyn-Queens Conservatory of Music Klavier zu unterrichten. Sein Brooklyner Lehrerkollege brachte ihn schließlich zu Robert Durso.
"Der Lernprozess geht natürlich immer weiter", sagt Brofman heute. "Es hat wahrscheinlich acht oder neun Monate gedauert, bis alles zusammen passte. Im Augenblick habe ich das Gefühl, dass Grundbewegungen wie Rotation, 'In and Out', Formgebung etc. mehr oder weniger automatisch geschehen. Alles wird zunehmend unterbewusst. Ich kann mich ehrlich gesagt nicht daran erinnern, wie ich vorher gespielt habe. Das ist total aus meinem System verschwunden, und ich könnte es nicht mal reproduzieren, wenn man mich danach fragte. Nichts schmerzt mehr."
Brofman ist sich klar darüber, dass sich die Taubman-Methode nicht ohne weiteres an Musiker verkaufen lässt, die nicht verletzt sind. "Nicht, dass sie nicht auch davon profitieren würden, aber es ist nun mal schwierig, jemanden davon zu überzeugen, das Klavierspiel neu zu erlernen, wenn keine Notlage vorliegt."
Sein Rat? "Musikern, die das Gefühl haben, gute Pianisten im Körper von schlechten zu sein, oder die unter Ermüdungserscheinungen und Schmerzen leiden, würde ich die Taubman-Methode vor allen anderen Methoden empfehlen."
Im letzten September war ich zu Brofmans Eröffnungskonzert, das er für seine Studenten und Verehrer in der Konzerthalle des Brooklyner Konservatoriums gab, eingeladen. Kraftvoll und flüssig und ohne jegliche Anzeichen von Schmerz spielte er Ausschnitte aus Beethovens Erster Sonate, Opus 31.
Pianist Ilya Itin
Auch der gebürtige Russe Ilya Itin, ein international anerkannter Pianist und Lehrer am Golandsky-Institut, erzählte mir von seiner ersten Begegnung mit der Taubman-Methode.
Im Jahre 2000 war er relativ kurzfristig gebeten worden, ein Konzert am Williamstown College, das damals die Sommerseminare des Taubman-Instituts  durchführte, zu geben. Dorothy Taubman unterrichtete damals noch die Meisterklassen, und Edna Golandsky gab Vorlesungen und führte diverse Details der Methode vor.
"Edna beobachtete mich; sie liebte mein Spiel. Sie sah aber auch eine leichte Krümmung meines kleinen Fingers bei einer komplizierten Passage von Akkorden.'
Nach Ednas Intervention funktionierte die Passage sehr gut, was das Bedürfnis in ihm weckte, mehr von Golandskys Ansatz zu erfahren.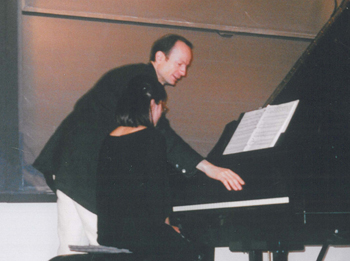 Pianist Ilya Itin teaching
Für Itin bietet die Taubman-Methode "… die Sicherheit phänomenaler Präzision". Nach seiner Aussage hat sie zu einer Art von Befreiung für ihn geführt, und ihm ein solides Wissen mit exakten Anweisungen, wie körperliche Freiheit beim Klavierspiel erreicht werden kann gegeben. Er sagt, dass ihm diese Freiheit erlaubt, die geistige Freiheit zu erlangen, die jeder Künstler zu finden versucht. Er räumt aber auch ein, dass die Methode – obwohl klar und verständlich – "… einen komplexen Entwicklungsprozess und anhaltend intensives Training erforderlich macht – ein Training, das sich fortlaufend dem jeweiligen Erkenntnisstand anpassen muss."  Andere große Künstler haben ebenfalls erklärt, dass die Taubman-Methode ihr Klavierspiel erheblich verbessert hat; selbst Pianisten, deren Technik am Klavier  keinerlei Veränderungen bedarf, erkennen den Wert der Methode an und befürworten die Arbeit der Lehrer des Golandsky-Instituts.
So zum Beispiel Gabriela Montero, Star-Pianistin bei Präsident Obamas Amtseinführung. Als ich sie kürzlich an der Bar des Charles Hotels in Boston traf, sagte sie mir: "Ich wurde 1995 eingeladen, am ursprünglichen Taubman-Institut des Amherst College aufzutreten, und dort lernte ich dann auch Edna Golandskys Arbeit kennen. Für mich ist Edna ein brillanter Kopf, mit der Intuition und dem nötigen Wissen, ohne großen Zeitaufwand analysieren zu können, wie man einem Künstler helfen kann. Diese Arbeit ist für jeden, der eine gesunde und organische Technik für das Klavierspiel finden und verstehen möchte."
Montero stellte die Taubman-Methode auch ihrem früheren Studenten Manuel Laufer vor. Als Teenager hatte Laufer in Caracas zum ersten Mal für sie gespielt; später traf er Montero in Montreal wieder, besuchte ihre Meisterklassen und nahm Privatunterricht bei ihr.
Er erinnert sich daran, dass Montero "… der festen Überzeugung war, Taubmans und Golandskys pädagogischer Ansatz böten mir den effizientesten Weg, mein volles Potential am Instrument zu entwickeln. Ich folgte ihrem Rat, und nahm im Sommer 1999 an einem zweiwöchigen Kurs des Taubman-Instituts teil; als ich wieder in Montreal war, begann ich mit dem Grundtraining in der Taubman-Methode, und zwar mit den Lehrern Jean-Pascal Hamelin und später Nina Scolnik – beides Mitglieder des ursprünglichen Taubman-Instituts. So begann meine Einbindung in die Taubman-Methode, die wiederum zu meinem späteren Studium bei Edna Golandsky in New York führte."
Von der Rationalität, Gründlichkeit und Effizienz der Taubman-Methode angezogen, kehrte Laufer über viele Jahre hinweg immer wieder zu Taubmans Arbeit zurück. "Ich habe das Gefühl, dass die Methode einmalig leistungstiefe Resourcen zur Lösung technischer Probleme am Klavier bietet. Das gilt auch für die Verfeinerung tonaler Kontrolle und die Erweiterung der Ausdruckspalette. Ich bin meinen Lehrern Golandsky, Hamelin und Scolnik unendlich dankbar dafür, dass sie ihr Wissen an mich weitergegeben haben, und auch Gabriela, die die Weitsicht hatte, mir zu einem entscheidenden Zeitpunkt meiner Entwicklung den richtigen Weg zu weisen."
Ähnlich äußert sich die ehemalige Pianistin Shulamith Ran, heute Pulitzer-Preis-prämierte Komponistin und Professorin an der Chicago University. In einem Interview mit der Los Angeles Times im Jahre 1997 sagte sie: "Das Golandsky-Institut hat wirklich großartige Arbeit geleistet. … Der Begriff 'Methode' wird der Sache eigentlich nicht gerecht, weil das Wort so klingt, als habe jemand etwas erfunden. Taubmans Leistung besteht jedoch darin, ein natürliches Phänomen entschlüsselt zu haben."
Dorothy Taubman selbst hatte u.a. mit Leon Fleisher, dem vielleicht bekanntesten verletzten Pianisten, gearbeitet. Die Los Angeles Times zitiert Fleisher wie folgt: "Dorothy ist wirklich außergewöhnlich, was ihre Intuition in Sachen Schmerz angeht. Sie lokalisiert genau die Stelle, an der man etwas falsch macht, und weiss, wie man den Schmerz los wird. Das ist etwas sehr Besonderes. Sie ist fast eine Heilerin."
Man könnte argumentieren, dass solche Statements kaum helfen, die Anwendung der Taubman-Methode nicht entmystifizieren, und dass auch andere Faktoren eine Rolle im Heilprozess spielen mögen. Dazu kommt, dass es Taubmann abgelehnt hat, ihre Arbeit mit Fleisher zu diskutieren, und lediglich bereit ist zu sagen, sie habe ihn in die rechte Bahn gelenkt.
Andere Musiker, wie der Fleisher-Student und Juilliard-Professor Julian Martin, waren selbst nicht verletzt, sahen jedoch auf Grund von Verletzungen unter ihren Studenten die Notwendigkeit, sich mit Taubmans Arbeit auseinanderzusetzen.
Martin erinnert sich: "Ich kam in den 80iger Jahren zu Frau Taubman; sie unterrichtete damals noch am Oberlin College. Es bedeutete einen schweren Rückschlag für mich, da ich, um überhaupt von ihr lernen zu können, noch einmal ganz von vorne anfangen musste. … Sie war sehr fanatisch und zwanghaft, aber das ändert nichts an meiner Dankbarkeit für all das, was ich von ihr lernte. Manches hätte ich von niemand anderem lernen können, und vieles davon benutze ich tagtäglich. Die Taubman-Methode bietet mir einen zuverlässigen Leitfaden für eine gesunde Routine am Instrument."
Unter Musikpädagogen gibt es ebenfalls Stimmen, die nicht zögern, Taubmans bahnbrechende Erkenntnisse anzuerkennen und zu befürworten.
Als ich Dorothy Taubman letzten Sommer in ihrer Wohnung in Brooklyn besuchte, zeigte mir die gebrechliche, aber immer noch lebhafte Dame von über 90 Jahren einen Brief aus ihrer Sammlung von Manuskripten. Der Brief war von Robert Shannon, und stammte aus Shannons Zeit an der Piano-Fakultät des Oberlin College. In seinem Brief an Taubman unterstreicht er die Validität von Taubmans Arbeit, und betont, dass sie ihn von seinen Verletzungen, die durch sein Klavierspiel entstanden waren, befreit hat.
Die Pädagogin Yoheved Kaplinsky, Leiterin der Juilliard Piano-Fakultät und ehemalige Studentin Taubmans, ist wiederum für ihre Fähigkeit bekannt, schädliche Gewohnheiten am Instrument rückgängig zu machen und bei Verletzungen effektiv zu helfen.
Auf der Website des Golandsky-Instituts  finden sich weitere Kommentare – von Ärzten, verletzten Pianisten und Musikern aller Levels. Die Autoren der Kommentare berichten nicht nur von ihrer beachtlichen künstlerischen Entwicklung durch die Taubman-Methode, sondern bekunden auch, dass ihre Verletzungen komplett rückgängig gemacht werden konnten. Das gilt selbst für sehr ernste Verletzungen, wie z.B. fokale Dystonien, die durch falsche Bewegungen am Instrument hervorgerufen werden, und die meist verheerende Folgen für die Karriere eines Musikers haben.
Doch selbst angesichts zahlloser Statements hoch-angesehener Musiker, die in der Musikwelt vollstes Vertrauen genießen, geben sich die Zweifler kämpferisch.
Ich muss in diesem Zusammenhang an Goethe denken, der sagte:  Derjenige, der sich mit Einsicht für beschränkt hält, ist der Vollkommenheit am nächsten.
Das ist vielleicht auch der Grund, warum viele ernsthafte Pianisten die Kunst der Musik und das Handwerk des Klavierspielens im Rahmen der Taubman-Methode weiter erkunden.
Wie zum Beispiel der Pulitzer-Preisträger, Pianist und Dirigent Yehudi Wyner, Absolvent der Juilliard School, sowie der Universitäten von Yale und Harvard, und ehemaliger Student der Komponisten Richard Donovan, Walter Piston und Paul Hindemith. Während der Sommer-Symposien des Golandsky-Instituts in Princeton tritt er regelmäßig auf, und er unterstützt seine ehemalige Lehrerin Edna Golandsky mit großem Enthusiasmus.
"Die Taubman-Methode befähigt einen Musiker, seine tiefsten Gefühle auszudrücken. Dorothy Taubmans Gedanken zum Thema Interpretation sind genauso tiefgehend wie ihr Ansatz in Sachen Technik", meint er.
Und Edna Golandsky gibt zu bedenken: "Wir sind dafür bekannt, dass wir Verletzungen behandeln, und wir sind meistens die letzte Station, wenn nichts anderes mehr hilft. Was dabei jedoch übersehen wird: wenn man weiß, wie man sich richtig bewegt, verletzt man sich gar nicht erst."
Das macht eine weitere Untersuchung notwendig…
Im dritten Teil der Serie stelle ich das Golandsky-Institut und seine Lehrer vor; ich werde auch über den internationalen Einfluss der Arbeit des Instituts sprechen, sowie über die Bedeutung der Taubman-Methode für andere Instrumente, und für die Welt des Jazz.