Ein Treffen mit Mark Peskanov von 'Bargemusic'
Ich kann mir vorstellen, ohne Papier zu leben, selbst ohne das Internet, aber ein Leben ohne Musik? Unmöglich! Aber Dank so energetischer und kreativer Leute wie dem Julliard Violinisten Mark Peskanov ist es sehr unwahrscheinlich, dass das passieren wird.
Peskanov ist der Mann, der hinter Brooklyn's 'Bargemusic' steht, einer Reihe, die sowohl Musikexperten als auch sporadische  Musikliebhaber anzieht. Mindestens viermal wöchentlich wiegt sich die uralte 35 Meter lange Barkasse am Fultoner Fähranlegeplatz im Rythmus von Peskanovs vielseitigem Programm, das aufsteigende wie auch vielgefragte Auftrittskünstler aus der Welt der klassischen Musik und des Jazz vorstellt.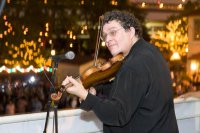 Diesen Sommer waren die 176 Sitzplätze der schwimmenden Konzerthalle täglich gefüllt, manchmal sogar zweimal täglich. "Wir bieten 52 Wochen lang, also das ganze Jahr, ein kontinuierliches Programm," erläutert Peskanov. "Es ist im wahrsten Sinne des Wortes, Musik in Bewegung."
Barkassenmusik ist ein integraler Bestandteil dieses Viertels von Brooklyn. "Ein Lebensmittelladen ist auch an jedem Wochentag offen," sagt Pekanov. "Die Leute sind daran gewöhnt, einfach vorbeizuschauen und es ist etwas los. Einige Künstler – und nicht alle sind in der Öffentlichkeit sehr bekannt – treten mehrmals während der Saison auf. Die Programmauswahl bestimmt die Auswahl an Künstlern und umgekehrt."
Vor allem bemüht sich die Reihe darum alle anzusprechen. Kinder brauchen keinen Eintritt zu zahlen und bei einem Preis von 35 Dollar pro Erwachsenen bringen Familien häufig viele mit. Wir sind ein Veranstaltungsort mit einer freundlichen familiären Atmosphäre. Wenn man zu spät zu einer Vorstellung kommt – z.B. wegen schlechtem Wetter – dann muss man nicht draußen im Regen bleiben."
Eine lange Zeit war 'Bargemusic' nicht einmal darauf eingerichtet, eine Kreditkartenzahlung anzunehmen, ganz zu Schweigen von einer Online-Reservierung. Alle Reservierungen wurden auf althergebrachte Weise per Telefon entgegengenommen. "Wir sind, was die Technik angeht, dabei uns anzupassen," verspricht Pekanov.
Dass es Barkassenmusik gibt, hat sich rumgesprochen, selbst ohne einen großen Werbeaufwand. "Unsere Künstler haben ein bestimmtes Niveau und wir wollen, dass sie zufrieden sind. Die persönliche Herangehensweise ist, was wirklich besonders ist. Ich arbeite eng mit den Künstlern zusammen und trete oft mit ihnen zusammen auf. Viele sind gute Freunde und Bekannte von mir und ich teile als Musiker viele meiner eigenen Erfahrungen. Das beinflusst alles, was ich mache. Ich habe in vielen verschiedenen Konzerthallen mit vielen berühmten Künstlern gespielt … Musik ist ein Geschenk, das seinen Ausdruck sucht."
Als er von seiner Verantwortlichkeit gegenüber jüngeren Auftrittskünstlern spricht, nimmt er ein Lesezeichen aus einem Buch von Isaac Stern, mit dem er selbst zusammen aufgetreten ist und nicht nur als großen Künstler bewundert sondern auch als großen Lehrmeister. "Auf der Bühne zu sein ist die beste Form des Lernens. Es kann alles Mögliche passieren."
In den frühen achtziger Jahren, als seine russische Landsmännin, die Bargemusic-Gründerin und Violinistin Olga Bloom, die Geschäfte führte, trat Peskanov selbst an diesem Veranstaltungsort auf.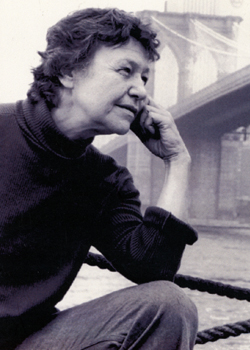 Er erinnert sich: " 'Willkommen zuhause', sagte sie mir und tatsächlich fühlte ich mich aufgrund ihrer einzigartigen und charismatischen Persönlichkeit gleich zuhause. Es war ein vertrautes Arrangement; die Leute saßen dicht neben den Auftretenden. An diesem Ort spürte man das Engagement für die Musik und das gab diesem eine besondere Atmosphäre."
In der Mitte der neunziger Jahre wandte sich die visionäre Bloom, damals bereits in ihren Neunzigern, an Peskanov mit der Bitte bei der Programmgestaltung und der Präsentation der Konzerte mitzumachen.
"Das lief so sechs Jahre oder so," führt Peskanov aus. Sie war wählerisch bezüglich dessen, was sie mochte oder nicht mochte, und es gab gelegentlich Meinungsverschiedenheiten mit dem Vorstand. Einige Leute entschlossen sich zu gehen, aber sie hatte eine Vision an die ich glaubte. Wie ein Barometer das anzeigt, wie das Wetter die Strömung des East Rivers beeinflusst, auf dem das Schiff mehr oder weniger ruhig schwamm, hatte sie ein Gespür für ein Gleichgewicht der Musik im. Im Jahre 2006 kam ich als Vorsitzender in den Vorstand. Als ich sie fragte 'warum ich?' antwortete sie: 'Es ist ihr Geschmack.'
Der derzeitige Vorstand ist nicht wirklich an künstlerischen Entscheidungen beteiligt und so ist es weiterhin Peskanovs Geschmack, der die kleine Barkasse in den Mainstram der New Yorker Musikwelt führt.
Die andauernd zunehmende Popularität des Konzeptes hat ein breites Publikum angezogen und die Türen zu neuen und bedeutenden Auftrittsorten eröffnet.
Die neue "Here and Now" Musikreihe, wie auch die frühere "Here and Then" Musikreihe zieht ein ausgewähltes Publikum an, viele dieser Leute sind Teil einer soliden Gruppe von langzeitigen Bakassenmusik-Liebhabern.
"Es handelt sich um ein Konzept, das wirtschaftlich harte Zeiten überleben kann und ebenso seinen Charakter in den besten Zeiten beibehält."

Der Traum von Peskanov ist es das 'Bargemusic' Konzept in Form von Lizenzbetrieben in andere Städte zu bringen. Kennt jemand eine Barkasse – sagen wir in Chicago?
Informationen zum Programm von 'Bargemusic' finden sich auf deren Webseite: http://Bargemusic.org