Abschied von einem großen Konzertmeister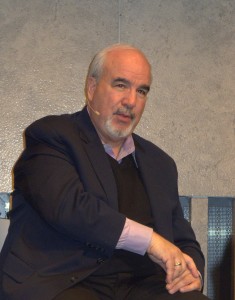 Es ist tatsächlich nicht bis zum Ende der 2013-2014 Spielzeit, dass Glenn Dicterow, der derzeitige Konzertmeister bei der New York Philharmonic dem Ruf an die 'Thornton' Fakultät an der 'University of Southern California' in Los Angeles folgen wird.
Aber schon jetzt zollen New Yorker ihre Huldigung einer der ikonischsten Figuren beim 'New York Philharmonic', der nach einer Laufzeit von 32 aufeinander folgenden Jahren schmerzlich vermisst werden wird. Es wäre unmöglich, nicht Dicterows freundliches, gutmütiges und rundes Gesicht und seine allgegenwärtige väterliche Autorität wahrzunehmen. Immer zu einem kleinen Spass und einer netten Bemerkung bereit, schien er omnipräsent auf dem ersten Stuhl zwischen Dirigentenpult und dem Rest der Streichersektionen zu sein, den Frieden beim Ensemble wie den Kommunikationsfluss aufrechterhaltend.
Dicterow wird der erste Künstler sein, der dem Bereich Streichinstrumente – und Kammermusik gewidmeten neuen Robert Mann Lehrstuhl inne haben wird, der von Alfred Mann eingerichtet wurde, um die Erfolge seines Bruders als Gründer und erster Violinist des bekannten Julliard Streichquartetts zu würdigen. Dicterow und seine Frau, die Violistin Karen Dreyfus, mit der er zusammen mit der Cellistin Inbal Segev als Amerigo-Trio auftritt, werden ebenfalls Fakultätsmitglieder sein.
Beide werden eine willkommene Ergänzung einer Anzahl außergewöhnlicher Künstler sein, einschließlich von Midori Goto, die den Jascha Heifetz Lehrstuhl für Violin an der USC inne hat. Heifetz war einer von Dicterows einflussreichsten Lehrern, den Dicterow als Teenager, als er in Los Angeles aufwuchs, treffen durfte. Dicterows Vater Harold Dicterow war für 52 Jahre der erste Sitz in der zweiten Violinensektion vom 'Los Angeles Philharmonic Orchestra'. Im Alter von 11 Jahren spielte Glenn Tchaikovskys Violinenkonzert unter der Leitung von Zubin Mehta mit dem 'Los Angeles Philharmonic'. Dicterow verbrachte mehrere Jahre als Musiker – und dann als Konzertmeister beim 'Los Angeles Philharmonic' unter der Leitung von Zubin Mehta, und wurde später im Jahre 1980, ebenfalls unter Mehtas Leitung, Konzertmeister des 'New York Philharmonic'. Der andere große Einfluss in seinem Leben war sein Lehrer Ivan Galamian, mit dem er an der Julliard School in Galamians berühmten Studio, das Yitzchak Perlman miteinschloss, lernte. Dicterow machte es sich zur Regel, immer etwas von seiner Zeit Engagements zu widmen, die außerhalb seiner Rolle bei der 'New York Philharmonic' standen. Er trat als Solist mit anderen Orchestern auf und widmete sich stets der Kammermusik. Er war auch in der Lage, einen Lehrauftrag an der 'Manhattan School of Music' und der 'Juilliard School' aufrechtzuerhalten und dies machte es ihm auch möglich, einige Orchester Musiker beim 'New York Philharmonic' aus dieser Gruppe talentierter Studenten zu rekrutieren. Am 5. November gab Dicterow eine charmante Rede im der Öffentlichkeit zugänglichen 'Atrium Space' (61 West 62 Street). Es wurde sehr klar, dass seine Qualifikationen für diese Position, die er solange inne hatte, nicht ausschließlich in seiner außergewöhnlichen Gabe Violine zu spielen begründet liegen, sondern ebenfalls sein persönliches und lebhaftes Verständnis der Rolle eines Konzertmeiters miteinschloss. Zur Beendigung seiner Zeit an der "New York Philharmonic" meint er verschmitzt: "Als ich das Angebot erhielt, geschah es zu einem Moment, an dem ich es nicht ausschlagen konnte. Nach 34 großartigen Jahren werde ich hoffentlich mit meiner vollständig intakten Reputation gehen können."
Ich nehme an, dass es sein Humor war, der es ihm erlaubte, durch eine lange Reihe von verschiedenen, wechselnden Direktoren , alle mit unterschiedlichem Charakter und Ego, zu gehen. Vom flamboyanten Bernstein bis zu Mehta, der: "mit seinen Händen wie ein Chirug war, so exakt, dass man auf keinen Fall ein Absenken des Taktstockes verpassen könnte…" bis Masur, einem "Meister der alten Schule," der vielleicht persönlich kontrovers empfangen wurde, aber den Klang des gesamten Orchesters dahin gehend veränderte, das dieser eher deutsch und dunkler klang, da er sich nicht scheute, die Blasinstrumente im Zaum zu halten." Dicterow setzte seine Karriere fort, indem er unter dem strengen, aber "unglaublich begabten Maazel" "diente", bei dem "man wissen musste, wie man ihn zu nehmen hatte, aber wir kamen gut miteinander aus", bis zum derzeitigen, viel jüngeren Alan Gilbert. Dicterow hat es geschafft, mit allen auszukommen und eine professionelle Beziehung aufzubauen, die auf gegenseitigem Respekt basierte. Sein Hauptanliegen ist es, einfühlsam zu sein und in der Lage zu sein, zwischen dem Dirigenten und den Sektionen zu kommunizieren, fast wie ein zweiter Dirigent. "Ich muss auf eine Weise spielen, dass andere sehen können, was ich tue." In einem Orchester kann man sich, als Mitspieler nicht allein auf den Klang verlassen, sonst gibt es Verzögerungen. Man muss im Moment existieren – die Bewegung der Sektionen muss simultan erfolgen und diese Bemühung hängt genau so viel von den Augen wie von den Ohren ab, vielleicht sogar noch mehr. Ich hatte das Vergnügen, ein Interview mit Dictorow im Jahre 2010 http://english.getclassical.org/2011/02/02/first-fiddle-glenn-dicterow-concertmaster-of-nyc%e2%80%99s-ultimate-band-the-new-york-philharmonic-orchestra/) zu führen, indem er noch mehr über die Rolle als Konzertmeister erklärte, einschließlich der Notwendigkeit entsprechend bestimmter Entscheidungen während der Proben und Sitzarrangements, Bogenstriche in die Partitur des gesamten Orchesters einzutragen. Dicterows Verantwortlichkeiten schlossen auch solche Tätigkeiten mit ein, wie auf verschiedenen Ausschüssen zu sitzen, die für die Aufnahmekriterien, künstlerische Leitung und Planung zuständig sind.
Doch das schwierigste für ihn war ein Element seines Auftretens, wenn von ihm verlangt wurde, plötzlich verschiedene, amspruchsvolle Solo-Sektionen innerhalb großer Orchesterwerke zu spielen, wie bei der jüngsten Darbietung von Rimsky-Korsakovs' Scheherazade. Bei diesen Momenten handelt es sich um die persönlichsten: "Alan sagte mir kürzlich, 'Oh Glenn, dies ist das letzte Mal, dass du dieses, und dies ist das letzte Mal, dass du jenes spielst – genieße einfach nur den Moment … und das tue ich in der Tat."
Dicterow spielt am(8-10) und auch am 13. November mit Cellistin Alisa Weilerstein Brahms' Doppelkonzert für Violin und Cello mit dem 'New York Philharmonic' unter der Leitung des emeritierten Direktors Kurt Masur. Ilona Oltuski