Get Classical started in der Rose Bar in New Yorks Gramercy Park Hotel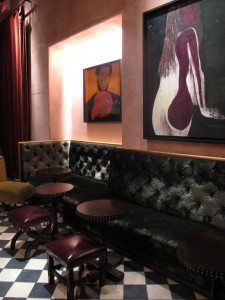 New York, New York – Der 6. Mai ist der Auftakt zur ersten Veranstaltungsreihe, wenn Get Glassical um 18 Uhr in der Rose Bar im Gramercy Park Hotel an der Lexington Avenue, Nummer 2 sein erstes Programm durchführt.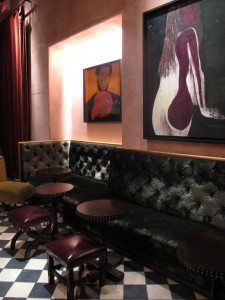 Als alternative Erfahrung und willkommene Ergänzung seiner traditionellen Präsentation lädt Get Classical am 6. Mai viele neue Fans des klassischen Genres zu seiner ersten Veranstaltung in der geschmackvoll und in einem eklektischen Stil eingerichteten 'Rose Bar' ein.
Get Classical's Idee einer vertrauten Präsentation klassischer Konzerte und Kommentars inmitten der stilvollen 'Rose Bar' des Gramercy Park Hotels bringt die Pracht des Salons des 19. Jahrhunderts in Verbindung mit dem Foyer des 21. Jahrhunderts.
Indem eine neue Alternative zum Zuhören klassischer Musik in einer konventionellen Konzerthalle geboten wird, stellt Get Classical das Klassische in die Mitte des anspruchsvollen, musikalischen Nachtlebens.
Getragen von der Hoffnung sowohl Neulinge als auch Kenner für die vitale, immerzu expandierende klassische Musikszene zu gewinnen, zielt Get Classical darauf ab, einem Genre zu nützen, das immer darauf bedacht ist sich neu zu erfinden, aber nur selten über den Rand der eigenen Behaglichkeitszone hinausblickt.
Diese Salon-Konzerte, bei denen Leute die Gelegenheit haben, sich bei einem Aperitif zurückzulehnen, sind als eine monatliche Sonntagsreihe geplant und werden Autogrammstunden und Veranstaltungen anlässlich von CD Veröffentlichungen beinhalten und dem New Yorker Publikum gestandene wie auch aufstrebende junge Künstler vorstellen.
Inspiriert von Interviews, der Interaktion und den Freundschaften mit großen Musikern, gründete Ilona Oltuski im Jahre 2009 den Musik-Blog
Get Classical
und ihre Website http://getclassical.org. Indem es intime Porträts klassischer Auftrittskünstler und ihre Geschichten vorstellt, die von einer Bloggerin geschrieben werden, die selber als Amateurmusikerin weiß, wovon sie spricht, ist
Get Classical
darauf stolz, die Gefühlswelt des Künstlers wie auch einige sich entwickelnde Trends im Musikgeschäft in Augenschein zu nehmen.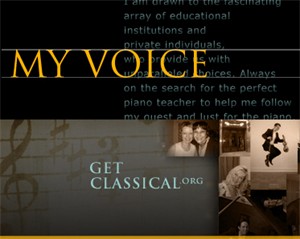 Get Classical in der 'Rose Bar' erhofft sich die eigene Sensibilität gegenüber kulturellen Veränderungen auf den Bereich tatsächlicher Auftritte zu beziehen und damit die Idee neuer Bemühungen aufzugreifen, die klassische Szene in neuen Umgebungen zu fördern. Eine Erweiterung sowohl des Stilbedürfnisses der coolen Generation und der angesagten Night Life-Szene in der Rose Bar kann potentiell einer hoch attraktiven Version des idealen traditionellen klassischen Forums nacheifern.
Das Programm am 6. Mai stellt begeisterte Auftrittskünstler, die klassischen Pianisten Marika Bournaki, Vassily Primakov, Natalia Lavrova und David Aladashvili heraus, die auch ein Gespräch mit der Musikjournalistin Ilona Oltuski, der Gründerin von
Get Classical
und der Gastgeberin der Auftaktveranstaltung zur Reihe in der 'Rose Bar' führen werden. Das intime und "Salon-ähnliche" Programm von G
et Classical
wird hoffentlich diesen sehr wichtigen Bestandteil der Kultur unserer Stadt wiederbeleben. "Der Eintritt ist frei, bei einem Mindestverzehr eines Getränkes. Besucher müssen eine Reservierung machen um auf die Gästeliste zu kommen. Sensationell ist es, dass Terrance McKnight von WQXR – der Public Radio Station sich bereit erklärte den event zu emceen, und ihm somit einen extra Hauch von "Buzz" und Interesse verleiht. Mein Dank geht an die Künstler, Yamaha für den Konzert Flügel und das Gramercy Park Hotel und die 'Rose Bar', für ihre persönliche Unterstützung und ihre Bereitschaft, am Auftakt von
Get Classical
teilzuhaben.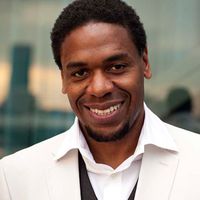 Falls Sie daran interessiert sind, Get Classical's ständig wachsende Veranstaltungsreihe durch eine finanzielle Zuwendung, Berichterstattung in den Medien, einen Auftritt oder Planungexpertise zu unterstützen, kontaktieren Sie bitte Ilona Oltuski bei Ilona@getclassical.org
WQRX's Terrance McKnight will emcee the event.
Über die Künstler: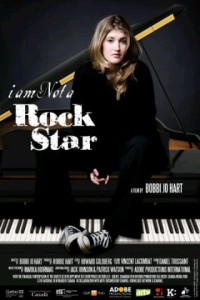 Marika Bournaki
Das Klaviertalent und die persönliche Entwicklung der Franko-Kanadierin Marika Bournaki werden in Relation zu ihrer blühenden Karriere als Konzertpianistin mit großer Einsicht im Dokumentarfilm "Making Marika" anschaulich dargestellt. Ihre Fähigkeit, sich auf das Publikum einzulassen und auf der Bühne und vor der Kamera zu präsentieren, hat sie zu einer Vielzahl von nationalen und internationalen Rundfunk-und Fernsehübertragungen geführt, wie der Sendung 'From the Top' des amerikanischen öffentlichen Radios und anderen gefilmten Aufnahmen. Ihre DVD "Happy Birthday Mr. Schumann", herausgegeben im Jahre 2010, stellt sie als Solistin vor, die für ein Schumann Piano Konzert mit der St.Peterburg Symphony auftritt. Marika geht die DVD nicht mehr aus dem Kopf und beeinflusst ihre Gefühle, was ihre Tourneen als Auftrittskünstlerin anbelangt.
Vassily Primakov und Natalia Lavrova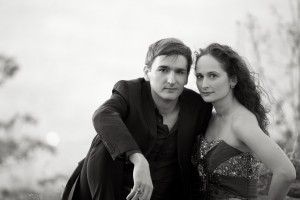 Im Jahre 2007 mit dem Preis der Classical Recording Foundation als junger Künstler des Jahres ausgezeichnet, erfreut sich Vassily Primakov einer starken Gefolgschaft, nicht nur bei den vielen Fans aus seiner Zuhörerschaft, sondern rundum auch bei Kritikern. Die New York Times schrieb, "Primakov gab ein feuriges Konzert …mit kräftiger, expressiver Phrasierung und dramatischem Engagement, dass das Publikum einfach aus den Stühlen riss;" Van Cliburn bewunderte seine "erstaunliche Technik."
Ein Halbfinalist und Finalist bei verschiedenen Wettbewerben, einschließlich der renommierten Cleveland International Piano-, Van Cliburn– und Gina Bauchauer– Wettbewerbe haben Primakov dazu geführt, einen interessante und unabhängige Musikkarriere zu verfolgen. Seine CD von 21 Mazurkas von Chopin wurde im Jahre 2009 vom amerikanischen öffentlichen Radio zur "Besten des Jahres" benannt.
Seine starke Verbindung – als Freund und Projektmitarbeiter – zu Natalia Lavrova, selbst eine Mitstudentin bei Juilliard und, für sich allein gesehen, eine begabte Pianistin, führte ihn dazu, an der Gründung ihrer neuen Plattenfirma mitzumachen: http://lpclassics.net/ in 2011. Ihre erste Veröffentlichung war Arenskys Suiten für zwei Pianos http://lpclassics.net/anton-arensky-suites-for-two-pianos-2/ von ihren Duo-Partnerauftritten, ein Weg, die manchmal gänzliche Einsamkeit auf der Klavierbank zu teilen, was beide der jungen Russen ungemein genießen.
Das Interesse des Labels an historischen Aufnahmen von wichtigen Auftrittslehrern muss einen Einfluss auf Natalia Lavrovas Ausbildungsneigungen haben. Als Gründerin der Music School of New York City, integriert sie ihre Expertise und Erfahrungen sowohl der russischen Klavierschule als auch ihrer Ausbildung, die sie am renommierten Studio von Herbert Stessin und Jerome Lowenthal an der Julliard School erworben hat. http://musicschoolofnewyorkcity.com/faculty/40-faculty-piano/48-natalia
David Aladashvili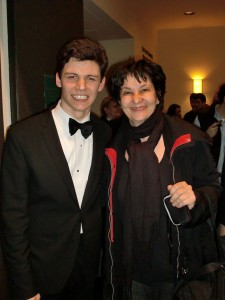 Nach dem Abschluss seines BA Programms im letzten Jahr unter der Anleitung von sowohl Juilliards Matti Raekallio als auch Jerome Lowenthal, hat die außergewöhnlich kontaktfreudige Persönlichkeit von David Aladashvili ihm bereits bei vielen Gelegenheiten einen Platz im Scheinwerferlicht gesichert. Zusätzlich zur Fülle seines natürlichen, musikalischen Talents haben sein aufrichtiger Charme und seine belebenden Fähigkeiten im Umgang mit anderen Menschen ihn dazu gebracht sich auf verschiedene organisatorische Anstrengungen einzulassen, die von studentischen Liederabenden und der fantastischen 80.Geburtstags Komposition, einschließlich von Parodien, die von der gesamten Fakultät für Prof. Jerome Lowenthal aufgeführt wurden, bis hin zur Gründung von Benefiz Konzerten in seinem heimatlichen Georgien. Seine einnehmende Persönlichkeit erstreckt sich mühelos auf die Fakultätsmitglieder, wie zum Beispiel Joel Sachs, der beim georgischen Abendkonzert mitauftrat, präsentiert und koordiniert von Aladashvili, sowie Persönlichkeiten aus dem Bereich der Politik, wie zum Beispiel Temuri Yakobashvili, Botschafter aus der Republik Georgien. Ein Dankeschön von Get Classical's Ilona Oltuski an David, für seinen persönlichen Enthusiasmus und Einsatz bei der Rose Bar für Get Classical, der dabei half, dieses Vorhaben Wirklichkeit werden zu lassen.
Für ein persönliches Porträt von Aladashvili siehe ebenfalls: http://english.getclassical.org/2010/03/18/oncert-review-david-aladashvili-a-georgian-evening-at-carnegie-weill-recital-hall/
Ebenfalls sind die beiden jungen, ausgezeichneteen Geigerinnen, Jennifer Choi (Photo unterhalb rechts) Mitglied der Gruppe ETHEL) und Angelia Cho (Photo links-Mitglied der Gruppe Salome) mit von der Partie.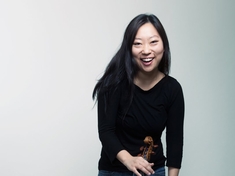 Falls Sie Musiker und daran interessiert sind, an der nächsten
Get Classical
Veranstaltung teilzunehmen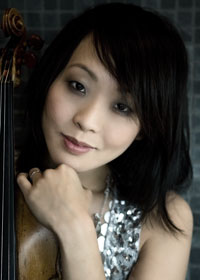 – einer CD Veröffentlichung, einer Vorschau ihres Programms, wenn sie aus dem Ausland für einen wichtigen Auftritt anreisen – oder wenn Sie einfach nur an einem Gespräch mit anderen Musikern oder einer neuen Zuhörerschaft teilnehmen wollen oder daran interessiert sind,
Get Classical's
ständig wachsende Veranstaltungsreihe durch eine finanzielle Unterstützung, Berichterstattung in den Medien oder mit Planungs- und Veranstaltungsmanagementexpertise beizutragen, wenden Sie sich bitte an
Ilona@getclassical.org